King Felipe VI of Spain decorates Eusebio Leal
King Felipe VI of Spain decorates Eusebio Leal
Imagen principal: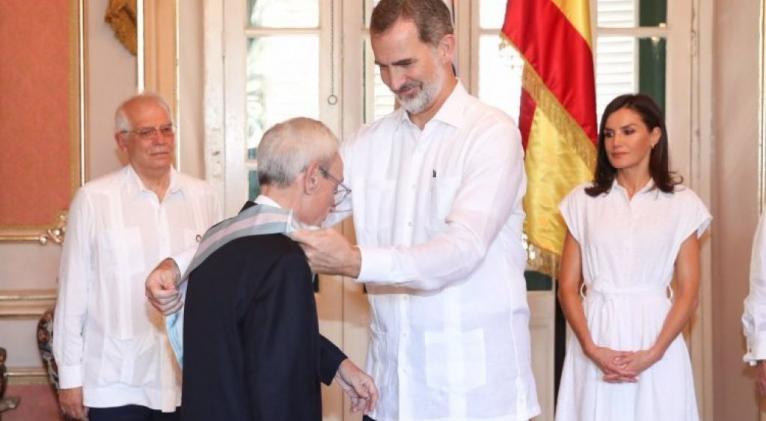 The king and queen of Spain, on a visit to Cuba, this Wednesday decorated City of Havana Historian Eusebio Leal after a tour of the historic center of the Cuban capital during which Leal was their guide.
King Felipe VI decorated the historian with the Grand Cross of the Royal and Distinguished Spanish Order of Carlos III, granted by the Spanish government in recognition of Leal's work at the head of Havana's restoration. The ceremony took place in the Palace of the Captains General, the island's former government house during colonial times and today the headquarters of the City Museum.
It is the most distinguished civilian decoration that can be granted in Spain, established in 1771 by King Carlos III, which Leal adds to another conferred by Spain, the Grand Cross of the Order of Isabel la Católica, granted in September 2017, according to Prensa Latina news agency.
After receiving the distinction, Leal, 77, recalled the historical links between Cuba and Spain, and spoke highly of Spain's contribution to the island's culture and idiosyncrasy.
Also in the Palace, the president of the Provincial Assembly of Havana, Reinaldo García Zapata, gave Felipe VI the "Giraldilla," the symbol of the Cuban capital. The ceremony took place in the courtyard of the monumental building and before the marble statue of Christopher Columbus.