Pope "Improving" After Night In Hospital With Respiratory Infection
Pope "Improving" After Night In Hospital With Respiratory Infection
Imagen principal: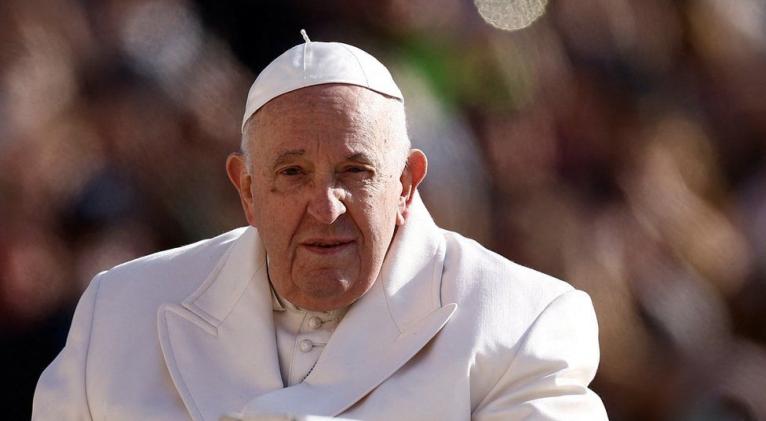 Vatican City: Pope Francis's health is improving after spending a night in hospital with a respiratory infection, the Vatican announced Thursday, saying the 86-year-old had eaten breakfast, read the newspapers and even done some work.
The pope "rested well during the night. His clinical picture is gradually improving and he is continuing his planned treatment", spokesman Matteo Bruni said in a statement.
"This morning after breakfast, he read some newspapers and resumed work. Before lunch, he went to the little chapel of the private (hospital) apartment where he prayed and he received the Eucharist."
Pope Francis was admitted to Rome's Gemelli hospital on Wednesday for what the Vatican said were pre-planned checks.
It later revealed he had complained of breathing difficulties and was diagnosed with a respiratory infection, but not Covid, and required "a few days" of hospital treatment.
The Argentine pontiff, who earlier this month marked 10 years as head of the Catholic Church, has suffered a number of health issues throughout his life, including having part of one of his lungs removed at age 21.
While keeping a busy schedule and travelling widely, he has for the past year used a wheelchair due to knee pain, and admitted last summer he had to slow down.
His admission to hospital sparked widespread concern, particularly after unconfirmed reports that he arrived in an ambulance.
Pope Francis was forced to cancel Thursday's engagements, and there are now questions over his presence at services for the upcoming Holy Week and Easter, the most important period in the Christian calendar.
Preparations are already underway at the Vatican for this weekend's Palm Sunday celebrations.
'Always the fear'
At his weekly audience on Wednesday morning, just hours before his admission to hospital, the pope appeared in good spirits, smiling as he greeted the faithful from his "popemobile".
But he was pictured grimacing as he was helped getting onto the vehicle -- a photo that made all the major front pages of Italy's newspapers on Thursday.
News of the pope's hospitalisation made global headlines and sparked prayers among many of the estimated 1.3 billion Catholics worldwide -- including US President Joe Biden.
President Biden, only the second Catholic president in US history, urged attendees at a White House reception to "say an extra prayer" for the pontiff.
His health was also on the minds of visitors to the Vatican on Thursday.
"There is always the fear, and yet it seems that everything is calm for now," said Tina Montalbano, a 60-year-old tourist guide.
"I hope he recovers very soon and can celebrate the Easter period here in St Peter's."
Pope Francis was admitted in July 2021 to the same Rome hospital for 10 days for an operation on his colon after suffering from a type of diverticulitis, an inflammation of pockets that develop in the lining of the intestine.
In an interview in January, the pope said the diverticulitis had returned.
In 1957, at age 21, Francis had part of one of his lungs removed, but he has said he made a full recovery.
Resignation rumours
Pope Francis has repeatedly said he would consider stepping down if his health required it, following the example of his predecessor Benedict XVI.
The German theologian, who died on December 31, shocked the world in 2013 by becoming the first pope since the Middle Ages to resign.
Francis has cautioned, however, that papal resignations should not be the norm, and said in an interview in February that the idea was currently not "on my agenda".
Despite his health issues and advancing age, Pope Francis -- a Jesuit who seems most happy being among his flock -- continues to travel internationally.
Earlier this year, he visited South Sudan and the Democratic Republic of Congo, drawing huge crowds.
Next month, he is due to visit Hungary and meet Prime Minister Viktor Orban.
In the past decade, Pope Francis has sought to forge an image of a more open, compassionate Church, although has faced internal opposition, particularly from conservatives.