ETECSA Working for More Efficient Data Traffic
ETECSA Working for More Efficient Data Traffic
Imagen principal: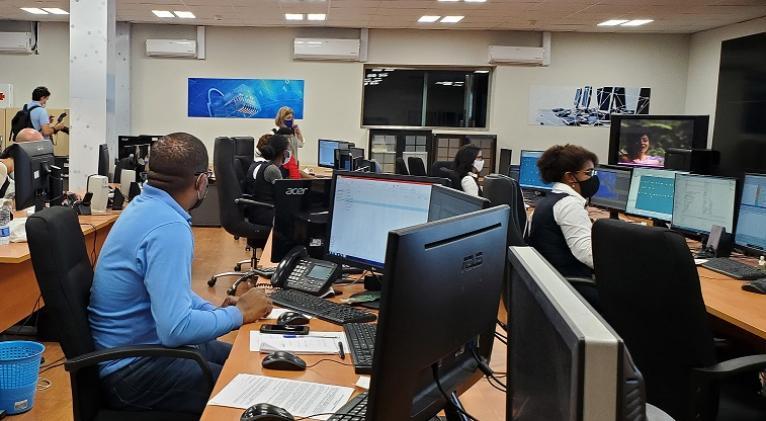 The expansion of LTE technology throughout the national territory, in the course of recent months, has provided those who access Internet through mobile data, to navigate at higher speeds, and those who transit through 3G, witness some relieve and, therefore, an improvement, which could translate into a better service of the networks, the main purpose of the Telecommunications Company of Cuba (ETECSA).
Located at strategic points, the radio bases, in sight, which today can be seen from certain rooftops, are in charge of broadcasting these signals. It's the tower climbers who challenge heights for the installation, preventive maintenance and updating of these equipment. Alexis Sosa Alonso, head of brigades of the Projects and Jobs Execution Division, explained to CubaSí that "these processes take place on the long run, they are quite difficult also; they are really complex".
He also reported that "at this moment they are working at several places in Havana, in the implementation of a more modern equipment, with better features, greater capacity, which have a great impact on connectivity and customer perception, broadcasting a stronger signal. The upgrading includes both the outer and inner equipment. However, at this time, 151 municipalities in the country already have LTE coverage".
In addition, the specialist highlighted that the arrival of the pandemic, far from braking the expansion of this technology that will ultimately replace all others is a complex issue. The effort of these technicians has been doubled so that telework and distance education could be developed. Setting a better connectivity between companies, between hospitals, and virtual communication between people admitted because of COVID-19 with their relatives and friends.
By 2021, ETECSA plans to install 80 new radio stations throughout Cuba, although, in general, annually no less than 300 of these sites receive preventive repairs against possible deterioration due to environmental conditions, as well as upgrading. At the end of last year, 816 radio stations provided coverage to the capital, head cities in the provinces and other points, which means 85.61% of coverage nationwide.
National Network Operations Center, Controller of the Traffic
The National Network Operations Center is the department in charge of monitoring data and voice traffic 24 hours a day. The communications operator has the challenge of remaining without any rest behind charts that draw congestion areas between lines and dots, especially on holidays like yearend festivities, in order to deploy alternative solutions in time and maintain stability in the services.
Sybel Alonso Baldor, Head of Specialized Support of the Vice Presidency of Network Operators, said that her team is an essential source of information, since they are the ones who determine which places can reach a little more to the maximum traffic, they carry out analysis of schedules, they choose the most saturated areas, and with this information they elaborate classic structures of consumption and schedules with more or less peaks based on human behavior.
 
Something funny, declared Alonso Baldor, which happened since the outbreak of COVID-19 and the adoption of physical and social distancing measures that demanded that most inhabitants stay longer inside their homes, and implement teleworking and distance education. It was the displacement of the areas with the highest traffic from those with the greatest economic and social life to the residential areas, which required a greater effort based on this new reality.
Although this center handles the national network, there are other similar centers in the rest of the territories, which are key to diagnose networks behavior, as well as determining where it's necessary to install access equipment, such as a radio base, to lighten the saturation levels. At the end of 2020, 6.6 million users in Cuba used mobile telephony, and 4.4 million out of them accessed Internet through this platform.
Sybel Alonso Baldor highlighted that ETECSA is working on energy assurance of all its infrastructures to avoid possible failures, and that the purpose of the company is to continue increasing all its capabilities, since more and more customers use the mobile and data through LTE, 3G and 2G; therefore, the goal is that a greater number of people have greater access to this service and with better quality.
Translated by Amilkal Labañino / CubaSí Translation Staff