A different school year begins
A different school year begins
Imagen:
Most of Cuban families —except in Havana and other areas where new outbreaks have sprouted— are getting ready for the resumption of the current school year on September 1st.
But there are now new and important issues to take into consideration. Besides the well-ironed school uniform and brand-new pairs of socks, the schoolbag will carry, along with notebooks and others school equipment: face masks, soaps, hydroalcoholic solutions, or wet wipes…all of them paramount to prevent coronavirus.
Additional regulations are being adopted now by schools to provide the necessary protection, which was guaranteed by the Cuban minister of Education (Mrs. Ena Elsa Velázquez) in the last TV program Mesa Redonda.
Anyway, it will be a different beginning for students, parents and teachers. Five months have passed since the last subject was written in the chalkboard. So, readjustment looks harder now.
But the event, no matter what, will continue to be a reason for celebration in the island.
Few days ago, the WHO confirmed: "so far, we know schools are not critical factor in the pandemic." These words were delivered by WHO's Regional Director for Europe Hans Kluge in a recent press conference.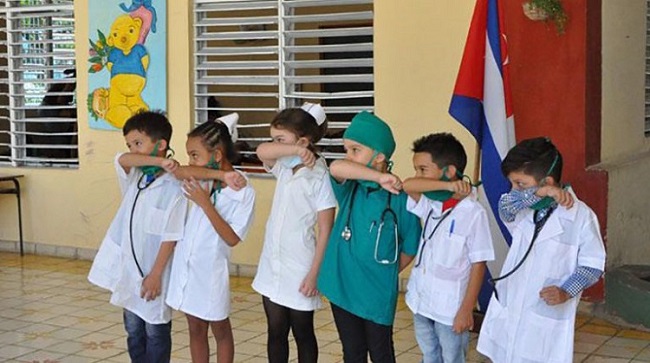 However, the WHO pointed out that schools must follow general measures of hygiene and social distancing, or even go one step further based on the pandemic phase the community reached.
"But we know we cannot open the society without opening schools first. This has been the greatest disaster in education ever, with 1,600 million students affected in 190 countries," highlighted the official.
It is mandatory for Cuban families to explain children in details how to behave in schools to protect themselves, but never instill fear or uncertainty on them.
Adults shall be the first to understand the UNICEF's most recent suggestion: "Even when family is essential in the development of children, it is legit to highlight the value of another non-familiar space, experienced by children on daily basis."
Children and teenagers need to exchange and play with their peers, as it is paramount for their own independence, self-esteem, self-confidence; to know their own potentials and simply have fun, which are different from adults'.
Exchanging with their peers at school is another way to learn, different to the traditional academic learning with the professor. It is a necessary entertainment for interpersonal relationships and life within a society at such. And all of that was interrupted by the social isolation caused by the pandemic.
Nonetheless, some positive notes have had these months without school for most of students; namely, sharing more time with their relatives, knowing better the dynamics at home, and even helping in some of them.
But, probably, the best learning we treasure out of these months without schools has been new ways to love and care for each other.
Now it is time to put them into practice at schools in order to continue growing in the love for others.
Translated by Sergio A. Paneque Díaz / CubaSí Translation Staff