Ecuadorean Bus Crash Linked to Drug Trafficking
Primary tabs
Ecuadorean Bus Crash Linked to Drug Trafficking
Imagen principal: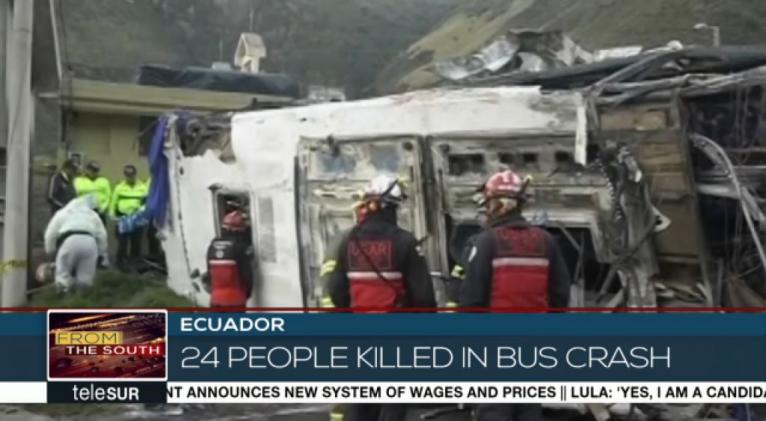 Colombian and Ecuadorean authorities have confirmed the bus that crashed Tuesday leaving 24 dead was carrying cocaine.  

At least 80 kilos of cocaine were found in the Colombian bus that crashed near Papallacta, Ecuador, police authorities announced Thursday.
RELATED: New Details on Bus Crash in Ecuador Creates Mystery
"There are 80 so far, but we haven't finished counting. It is not the first time they have used tourist buses to smuggle drugs through the border," a source in Colombia's Office of the Attorney General told AFP.
The accident occurred Tuesday at 2:55 a.m. and caused 24 deaths and 14 injuries. The case appeared to be a simple transit incident, but the story became progressively strange as authorities realized most of the travelers didn't have identification, and later learned they were participating in a free trip that covered transport, food, and lodging.   
Police investigations determined the 38 victims were used as drug mules without their knowledge.
Ecuadorean authorities have said they are not surprised by the discovery. This year over two tons of cocaine has been smuggled in international tour buses transporting "beneficiaries" of free trips.
Security forces in both Ecuador and Colombia are collaborating on the investigation to determine the causes of the accident and identify those responsible for the cargo.
Relatives and friends of the victims, most of who come from El Guabal neighborhood, in the city of Cali, claim the free trip was offered by a woman who lives in the community.
So far her identity has not been revealed, but authorities have been told she is a nurse. She was also on the bus during the accident and suffered severe injuries.   
This new mode of trafficking has been witnessed since early 2017 when half a ton of illicit substances were seized in the northern Ecuadorean city of Tulcan.