MS Braemar passenger: "Thank you Cuba that you could open your heart to us"
Primary tabs
MS Braemar passenger: "Thank you Cuba that you could open your heart to us"
Imagen principal: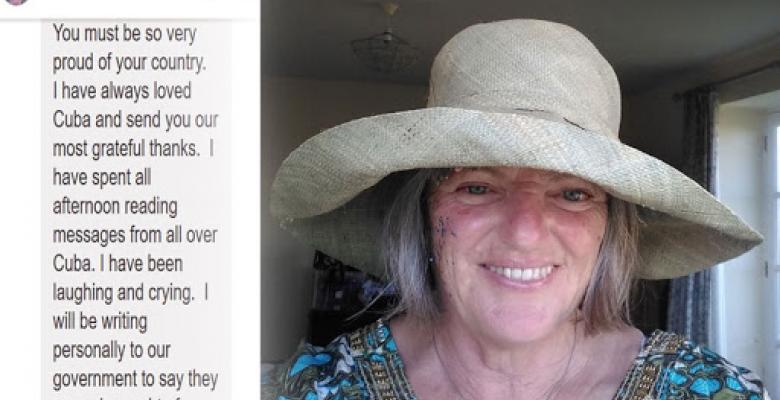 Suddenly, all the people who I know in Facebook began to hashtag a name in English. Should good feelings can go viral as quickly as morbid things can on the Internet, that name had certainly shaken Facebook algorithms.
Anthea Guthrie, a 68-year-old English woman, had been identified on the social network as one of the passengers of the British cruise ship MS Braemar, which carries a small number of people infected with the new coronavirus (SARS CoV 2/Covid-19) onboard and has been stranded on the high seas for several days, without getting permission to dock in any of the ports, where it requested humanitarian help.
But Cuba, one of the few countries in the world able to take a step forward for mankind in the most difficult times —the fight against Ebola in Africa and assistance faced with natural disasters anywhere in the world—, issued an official statement that brought peace back to the 682 passengers, 381 crew members, their families, friends, acquaintances, governments and every kind-hearted people in the world who can be able to figure out the uncertainty of the thousands of people who have felt abandoned in the middle of the ocean, without real rescue possibilities, in the 21st century.
Cuba allowed the MS Braemar to dock. The revolutionary government assured that it complies with all health measures established by the World Health Organization (WHO) and the Ministry of Public Health (MINSAP) to, along with the British authorities, guarantee the safe and immediate return of these travelers to the United Kingdom.
"Could all my friends raise a glass for Cuba and remember that when nobody else would let us disembark, Cuba took a step forward? Flying home from Cuba on Wednesday or Thursday. Love for all those who have been following our great adventure," wrote Anthea on her Facebook wall after knowing the news.
Later, faced with the avalanche of encouraging messages that she received, she wrote: "Honestly, I am in floods of tears at your kindness. You have made us feel not only tolerated but welcome as well. Thank you Cuba that you could open your heart to us, we'll never forget that you reached out to us when absolutely nobody, and I mean NOBODY ELSE would. Tomorrow, I'll give a lecture on the ship about the Revolution, your organoponic movement, in itself an object lesson to overcome adversity. In your honor thank you, thank you, thank you."
According to Telesur, among MS Braemar passengers there are citizens from Australia, Belgium, Colombia, Canada, Ireland, Italy, Japan, the Netherlands, New Zealand, Norway and Sweden.
At least five people onboard have been confirmed with Covid-19, but 21 crew members and 22 passengers are isolated because they are suffering from flu symptoms.
Translated by Jorge Mesa Benjamin / CubaSi Translation Staff