Top Cuban leaders attend PRC founding anniversary celebration in Havana
Primary tabs
Top Cuban leaders attend PRC founding anniversary celebration in Havana
Imagen principal: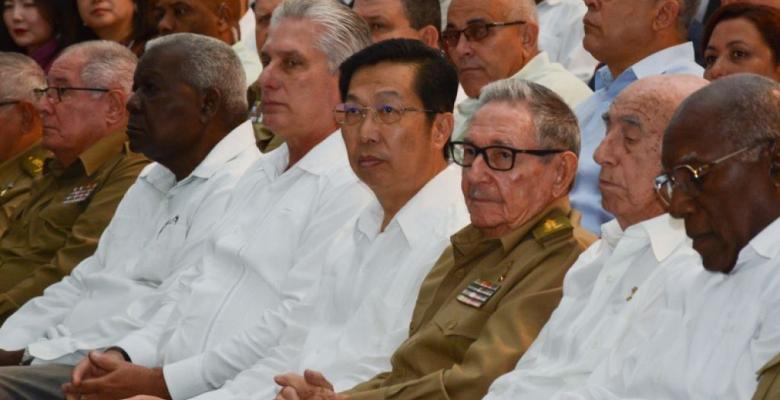 Top Cuban leaders attended a ceremony here on Tuesday to celebrate the 70th anniversary of the founding of the People's Republic of China (PRC).
First Secretary of the Central Committee of the Communist Party of Cuba Raul Castro Ruz and Cuban President Miguel Diaz-Canel and First Vice President of Cuba Salvador Valdes Mesa attended the event.
Valdes said bilateral ties have become an example of relations between socialist nations, South-South cooperation and relations between a large country and a small country on the basis of equality and mutual respect.
He highly appreciates a socialist and prosperous China, and praised Beijing's role in today's international arena.
"In today's difficult international situation, its (China's) development constitutes a factor of stability, balance and opportunity for the entire planet and in particular for developing countries and the Latin American and Caribbean region," he added.
Commenting on the Chinese government's recent award of the Friendship Medal to Raul Castro for his contribution to the development of bilateral ties, the vice president said, "We appreciate this new gesture of brotherhood and recognition of the role of the historical leadership of the Cuban Revolution, and in particular of comrade Raul, in promoting bilateral ties."
Also at the event, Chinese Ambassador to Cuba Chen Xi noted that next year marks the 60th anniversary of the diplomatic relationship between the two countries. He said the Cubans have a "fearless spirit" and are engaged in a "perpetual struggle to safeguard their independence, sovereignty and dignity, as well as equality not only at their borders, but throughout the world."
"China supports and will support, as always, without any hesitation and with all its will, the Cuban people in their efforts for socialism," Chen said.
Cuba established diplomatic relations with the PRC on Sept. 28, 1960, and was the first Latin American nation to do so.