Women´s Handball WC Day 2
Women´s Handball WC Day 2
Imagen principal: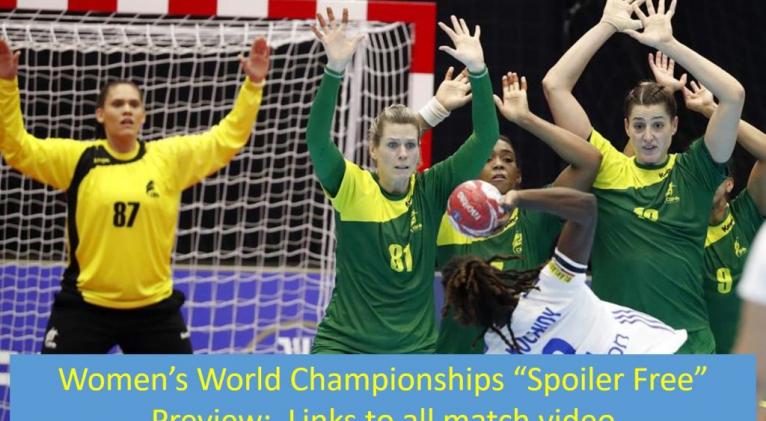 With the 2019 IHF Women's WC taking place in Japan handball fan in North and South America probably aren't going to be able to watch very many matches live. Japan is 14 hours ahead of the U.S. East Coast and most matches take place in the wee hours of the morning. Even fans in Europe might be a little challenged with the 8 hour time difference. Certainly, during the week when folks have to work.
Of course, if you want to know the result of any match, social media and the IHF will quickly tell you who won and how.
But, what if you don't want to know? What, if you prefer to watch without knowing who's going to win?
Well, it's not always easy to remain oblivious, but I'm going to try and help you do so with "Spoiler Free" links to match video. Along, with a few notes as to what's on the line for that upcoming matches.
Also, if you find yourself geoblocked out of the IHF web stream this article has some tips that should help you find a way to watch: Link
Sunday, 1 December
Group B
Brazil vs France Video Link
Australia vs Germany Video Link
S Korea vs Denmark Video Link (With Commentary from Paul Bray)
Both Brazil and France lost on the first day of competition. France to South Korea and Brazil to Germany, so both sides will want to avoid going 0-0-2. Australia will be huge underdogs to Germany while S Korea and Denmark will both try to move to 2-0-0 in the Group
Group C
Kazakhstan vs Montenegro Video Link
Spain vs Hungary Video Link (With Commentary from Paul Bray)
Senegal vs Romania Video Link
Kazakhstan will be a big underdog vs Montenegro. Spain and Hungary both won their matches, so that is a battle of unbeaten teams. Senegal gave Montenegro a close game while Romania was blown out by Spain. Could be interesting to see whether Romania can bounce back.