President Diaz-Canel visits Santiago de Cuba for Caribbean Festival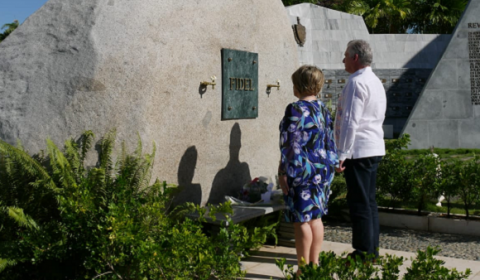 Santiago de Cuba, July 6 (RHC)-- The First Secretary of the Party and President of the Republic, Miguel Díaz-Canel, toured the city of Santiago de Cuba on Wednesday where he paid tribute, in the early hours, to the heroes of independence in the Santa Ifigenia patrimonial cemetery.
The Cuban president talked with members of the Casa del Caribe collective, which has just celebrated its 40th anniversary, and praised the cultural resistance involved in the celebration of 41 editions of the International Caribbean Festival.
At the necropolis, Díaz-Canel exchanged impressions with scientists and workers who played a leading role in the creation of the vaccines against the pandemic and of whom a representation is touring the provinces that had relevant participation in those clinical trials.
Among those present were several Heroes of Labor of the Republic, headed by Dr. Eduardo Martínez, president of BioCubaFarma, who received the Mpaka symbolizing the Casa del Caribe International Award, in recognition of his contribution to saving the lives of Cubans.