Prime minister of Saint Vincent and the Grenadines honors Jose Marti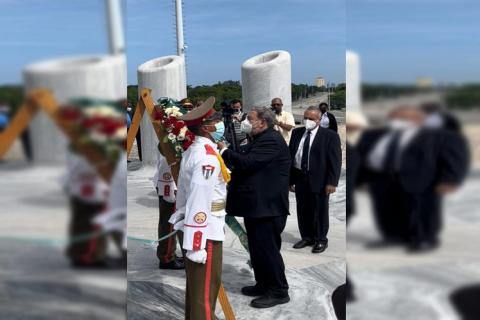 Havana, May 26 (Prensa Latina) The prime minister of Saint Vincent and the Grenadines, Ralph Gonsalves, paid tribute on Thursday to Jose Marti at the memorial that bears his name, at the beginning of his official visit to Cuba.
Gonsalves, who is also the minister of Foreign Affairs, National Security, Legal Affairs and Information of Saint Vincen, was accompanied by Cuban Deputy Foreign Minister Anayansi Rodriguez.
After honoring Cuba's National Hero, Gonsalves was officially welcomed at the Palace of the Revolution by Cuban President Miguel Diaz-Canel, with whom he is holding talks.
The Caribbean leader's agenda started precisely on the 30th anniversary of diplomatic relations between the two countries.
During his visit, Gonsalves will meet with senior Cuban government officials, will visit scientific institutions, and will participate in the 21st Summit of the Bolivarian Alliance for the Peoples of Our America-Peoples' Trade Treaty (ALBA-TCP), which will open on Friday in Havana.
Gonsalves will be awarded the Jose Marti Order, the most important decoration granted by the Cuban State.