Caribbean community sends solidarity messages to Cuba after accident at Saratoga hotel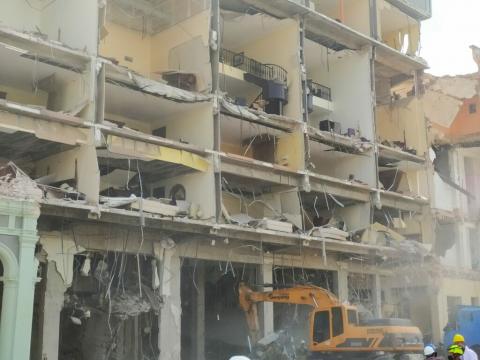 HAVANA, Cuba, May 9 (ACN) Representatives of Belize and Jamaica sent solidarity messages to the government and people of Cuba, after the tragic accident that occurred Friday at the Saratoga Hotel in Havana, which has caused numerous losses of human lives, injuries and extensive damage to the building and other nearby facilities.

John Briceño, the Belizean PM, sent messages of strength to the Cuban president, Miguel Diaz-Canel, and to the people of the island.

Briceño expressed in his statement that his thoughts are with all those who were affected by the tragedy.

He also expressed his satisfaction to know that Belizean doctors and students were among the first to go to the site of the tragedy to provide aid, which shows their gratitude to the Cuban people, who have given them so much.

Jamaican Premier Andrew Holness also sent sincere condolences to the government and people of Cuba, and in particular to the victims of the terrible explosion at the Saratoga Hotel.

Holness also said that his country is ready to assist in any way possible, and that the people of his country are praying for the affected families.

This Friday, May 6, an accidental explosion occurred at the Saratoga Hotel when a tanker truck carrying liquefied gas was serving its facilities.