French organization condemned destabilization by Bolivian right wing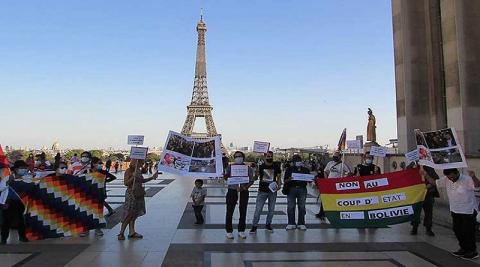 Paris, Jan 26 (Prensa Latina) Wiphala France organization condemned the actions of the Bolivian extreme right wing to destabilize the democratic process of social changes the Movement Towards Socialism government of president Luis Arce is carrying out.
In statments to Prensa Latina, the association´s representative Yaneth Ramos, highlighted that along with other forces, the organization works in France to disclose the reality of what occurs in Bolivia, where a desinformation campaign is in full swing.
The right wing seeks to confuse Bolivians with the support of the media opposed to the socialist government, and we saw how last November they could generate destabilization, so from here, we warn about the threats and carry out activities to counteract this agenda, she pointed out.
Bolivian people everywhere are not willing to give up to the process that cost blood and struggles and was recovered with President Arce, who is the head of the government that guarantees social changes and the plurinational State, the leader of Wiphala France stressed.
With the Movement Towards Socialism- she stressed-our country changed, with advances in infrastructure, health and recognition of indiginous people, among many other social and economic achivements.
Bolivia finished 2021 with Latin America's lowest inflation rate and a 6% economic growth.