Paraguay-Brazil Integration Bridge 75% Complete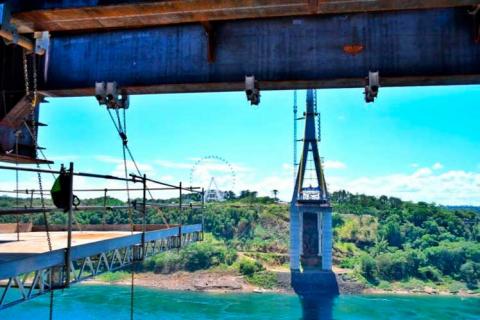 The construction work of the Integration Bridge that will join the Paraguayan city of Presidente Franco and the Brazilian city of Foz de Yguazú is now over 75 percent complete.
This week the placement of the sixth metallic piece on the Paraguayan side of the work and the seventh on the Brazilian side was completed, and both ends were 280 meters away from joining, according to a report released by Itaipu Binacional.
The bridge is cable-stayed and the central section isa deck supported at several points of its extension by ropes fixed to the balance box, while the inverted "Y" mast and the decks are the ones that receive and transmit the loads.
The future road connection will be 760 meters long, with a central span of 470 meters wide and more than 60 meters high, and Itaipu Binacional is in charge of the US$ 84 million investment.