Cuba and Algeria advocate for greater sports exchange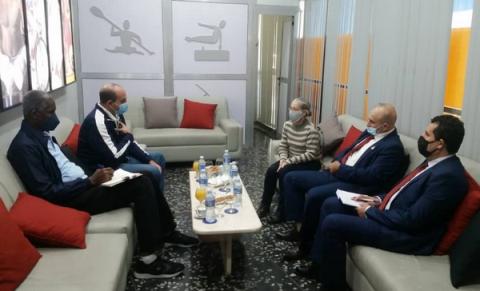 Havana, Jan 19 (Prensa Latina) Cuba and Algeria express themselves in favor of greater sports exchange with emphasis on the hiring of high-level trainers and the development of joint training bases.
This was ratified by the visit to this capital of the vice president of the Algerian Olympic Committee, Fazil Abdelnour Ferhat, his exchanges with authorities of the Cuban Sports Institute (Inder) and the tour of national centers.
The JIT publication reported that in a meeting with the vice-president of Inder, Ariel Sainz, and the secretary general of the Cuban Olympic Committee, Ruperto Herrera, the interest of the Algerians to carry out training bases on the island with a view to the Oran 2022 Mediterranean Games was analyzed.
The aforementioned digital media highlighted Abdelnour Ferhat's visits to the national boxing, canoeing, combat and aquatic sports schools, as well as to the main headquarters of the Giraldo Cordova Cardin High Performance School.
During the visit, the Algerian authority held a meeting with Alberto Juantorena, head of the National Athletics Federation and the Cuban Paralympic Committee, in which they ratified the strong ties of brotherhood existing between both peoples.
Likewise, Abdelnour Ferhat talked with Yipsi Moreno, commissioner of the king sport on the island, and appreciated the good condition of the track installed in the Pan American Stadium, located east of Havana.
Since his arrival to the national territory, the Algerian sports leader was accompanied by the president of the Cuban Olympic Committee, Roberto Leon.