Visionary thought of Fidel Castro highlighted in meeting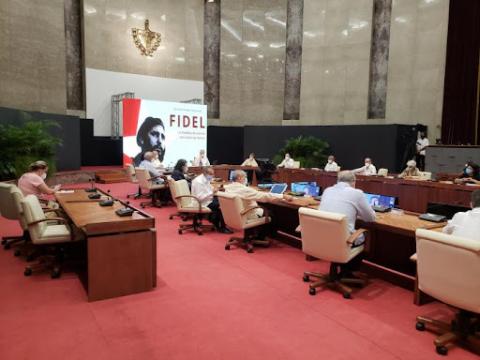 Honoring Fidel means studying his emancipating ideas, continuing his transforming action and implementing his imperishable legacy in the face of humanity's pressing challenges," said Cuban Foreign Minister Bruno Rodríguez Parrilla at the Virtual Meeting "Fidel, a man of science with a vision of the future" held Friday.
Rodríguez Parrilla mentioned Fidel's approach to science and communication and how it is necessary to resort to his ideas and contributions for the communicational political dispute experienced in Cuba and Latin America.
The Minister of Foreign Affairs said that Fidel understood that achieving U.S.-style homogenization in the cultural and symbolic field has always been among Washington's highest aspirations.
He added that the historical leader of the Cuban Revolution saw the potential for the development of society and access to knowledge that the Internet was bringing about. Still, he also understood that this came from the transformation of the military-industrial complex to the military-cultural complex, with its media-technological approach.
The First Secretary of the Central Committee of the Communist Party of Cuba and President of the Republic, Miguel Díaz Canel Bermúdez presided over the event, convened and organized by the Executive Secretariat of the Sao Paulo Forum (FSP) and the Communist Party of Cuba (PCC).
The meeting is part of the tributes for the 95th anniversary of the birth of Fidel Castro.