Foreign Minister of Cuba: OAS maneuver against Cuba 'defeated'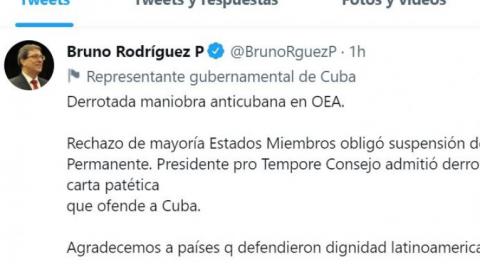 Cuban Foreign Minister Bruno Rodríguez highlighted the defeat of the maneuver instigated by the United States against Cuba that sought to impose a meeting of the Organization of American States (OAS).
According to a Tweet by Rodríguez, the rejection of the majority of member states forced the suspension of the Permanent Council of the regional forum.
'President pro tempore of the Council (Ambassador Washington Abdala, of Uruguay) admitted defeat through a pathetic letter offending Cuba,' he stressed.
Rodríguez also conveyed his gratitude to the countries that defended Latin American and Caribbean dignity.
The director general for Latin America and the Caribbean of the Ministry of Foreign Affairs of Cuba, Eugenio Martínez, also Tweeted confirming that the OAS was forced 'to suspend this action of the anti-Cuban maneuver' uppon confronting the decency of the majority in the region; 'dignity against ignominy,' as he pointed out.
According to press reports, the executive body of the OAS announced an online session scheduled for this day, with the supposed purpose of discussing the situation in Cuba after the disturbances that occurred in various parts of Cuba on July 11th, instigated by the United States.
The president of Cuba, Miguel Díaz-Canel, described as 'shameful' the step announced in the United States campaign against Cuba, based on the mobilization for that OAS meeting.