Santiago de Cuba declared a Musical Reference City in Ibero-America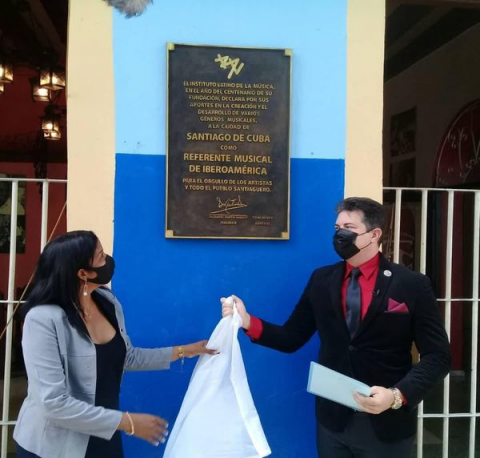 Santiago de Cuba, July 26 (RHC)-- The Latin Institute of Music (ILM), declared this city a Musical Referent of Ibero-America, in the context of the celebration of the 506th anniversary of the founding of the Village and the 68th anniversary of the Assault on the Moncada Barracks.
To mark this recognition, Daniel Martin Subiaut and Yaneidis Hechavarria Batista, presidents of the ILM and the Municipal Assembly of People's Power of Santiago de Cuba, respectively, unveiled a bronze plaque on the façade of the Casa de la Trova "Pepe Sanchez", in the historic center of Santiago de Cuba.
Subiat pointed out that Santiago de Cuba is worthy of that status for its countless contributions of musical genres and creations for more than three centuries and having a solid structure of artistic education centers, a broad talent, and institutions to promote that cultural heritage.
This distinction was conferred by the Latin Institute of Music along with its Seal of Honor, on the centenary of its creation in Mexico and supported Santiago de Cuba's candidacy for the status of "Creative City of Music" by UNESCO, a distinction held by some 250 cities in the world, including Havana.