Venezuela demands the U.S. unblock resources to buy vaccines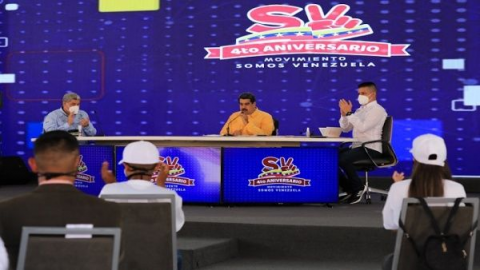 Caracas, June 12 (RHC)-- Venezuelan President Nicolás Maduro has demanded that U.S. President Joe Biden unblock his country's resources to acquire vaccines against COVID-19 and fight the pandemic.
The Boliviarian leader described the action as "criminal theft," after Executive Vice President Delcy Rodríguez and Foreign Minister Jorge Arreaza denounced the blocking of 10 million dollars by the Swiss bank UBS, destined to the payment of the last installments for the Covax mechanism and thus acquire the doses of immunizations.
"I demand, today June 11, that the administration of Joe Biden unblock the money for the vaccines for the Venezuelan people; I demand it from Venezuela, the Bolivarian, the rebel Venezuela," he emphasized from the Bicentennial Square of the Miraflores Palace, seat of the Government.
In addition, he stressed that his country has already fully complied with the commitments required by the Covax mechanism, a global access fund to guarantee the equitable distribution of vaccines against COVID-19.
"We have deposited more than 100 million dollars, but the Covax system announced to us that the last 10 million had been blocked by the Government of the United States, 10 million dollars to buy vaccines against the coronavirus for the people of Venezuela," said the Executive.
The President reiterated that receiving these doses will allow accelerating the immunization process carried out by the Venezuelan Government, in order to reach 70 percent of the population vaccinated by October.