Diaz-Canel asks for extreme hygienic measures on Father's Day in Cuba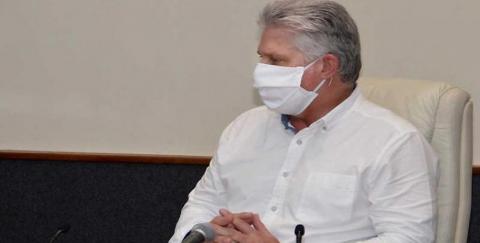 Cuban President Miguel Diaz-Canel called for increased hygiene measures during the Father's Day celebrations on Sunday, despite the fact that most of the island is in the process of recovering from the COVID-19 pandemic.
"In Havana, above all, we have to be aware that there is a limitation of mobility and the capital has to maintain the same restrictions as when we started with the pandemic," the president insisted in the usual meeting to check the epidemiological situation.
During the meeting, governmental authorities analyzed the progress of the COVID-19 recovery process, which began Thursday in all provinces of the country, except for Havana and Matanzas.
Although most of the island and the Special Municipality of Isla de la Juventud are in the first phase of a gradual return to normalcy, measures such as physical distancing and the mandatory use of face masks or "naso-bucos" are still in place.
At Friday's meeting, the governors of Santiago de Cuba, Camagüey and Pinar del Río reported on the implementation of the actions contemplated in the plan for the gradual return to normalcy.
They reported that the investigations to find possible sick people continue and the population is required to comply with hygiene measures as from the resumption of economic activities.