Talking to Enrique Ubieta: The essence of the "Henry Reeve" Medical Brigade
Talking to Enrique Ubieta: The essence of the "Henry Reeve" Medical Brigade
Imagen principal: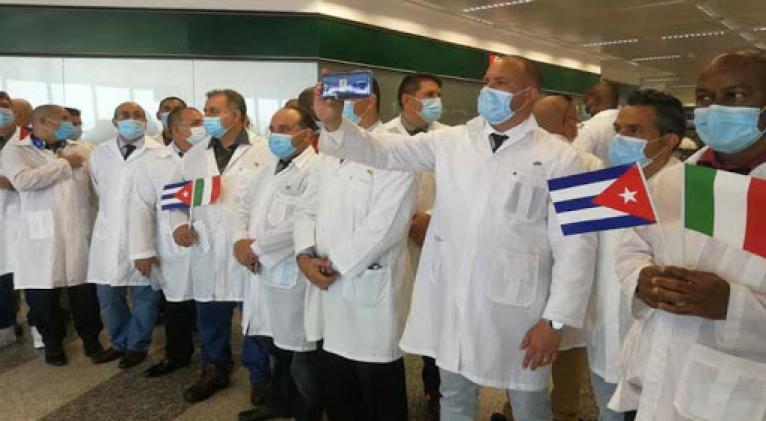 To some countries around the world, the first contact with our nation has been throughout our health professionals. In these dark hours, a pandemic is causing havoc worldwide and some welcomed Cuban's medical collaboration for the first time. Specialized in Disaster Situations and Serious Epidemics, the "Henry Reeve" Medical Brigade was ready to face the Covid-19 challenge and help any country requesting assistance.
The Brigade treasures these basic principles of actions: solidarity, humanism, the defense and right realization of human rights to health as well as the promotion of human rights to peace. Under these premises, its members are fighting the most dangerous threat this world has faced in the XXI century and over the span of five months (March-September), the "Henry Reeve" Brigade has already assisted 39 countries and has provided medical care to 550,900+ people, saving 12,488 patients.
15 years after the foundation of the Brigade, Enrique Ubieta is proud of having accompanied the health personnel in their missions and their most noble task: listening to hearts.
The essence of the "Henry Reeve" has few requirements. Actually, I would say principles that are paramount. There is something which is very important: Cuban doctors do not feel they belong to a superior class. They interact with patients in their everyday work. They forge a bond and they set a sort of relationship that breaks the barrier of social classes.
When we talk about the civilization war, we tend to ignore that the class difference is the basis of everything. And this is a subject that is barely tackled. Cuban doctors and nurses break such pattern. They treat pre-Columbian, Muslims cultures as well as people from Africa, Asia, Europe alike. And they cultivate a wonderful relationship with them all.
On the other hand, they do not meddle in local affairs. This is a principle Fidel always insisted on: they are health professionals who will never do political campaigns.
Now, I will not deny it and it is crystal clear to me, the sole presence of a Cuban doctor who represent the Revolution, in the most inhospitable corners of the world, risking their own lives, is indeed a political move. People are not fools. It implies an action that shows a way. That is why the doctors who have merchandized their profession fear internationalism so much.
The U.S. government have tried hard to tarnish this altruistic action with strong campaigns. But something radically refutes it, the fact that the relatives of those collaborators and the Cuban people as a whole are very proud of them.
Cuba is safe, as long as the relatives of those health professionals —who go saving lives fighting Ebola o this pandemic— applaud their actions; as the Cuban people applaud each of their doctors and nurses…!
Translated by Sergio A. Paneque Díaz / CubaSí Translation Staff