President of the Cuban Friendship Institute to attend Brazil-Cuba solidarity meeting
President of the Cuban Friendship Institute to attend Brazil-Cuba solidarity meeting
Imagen principal: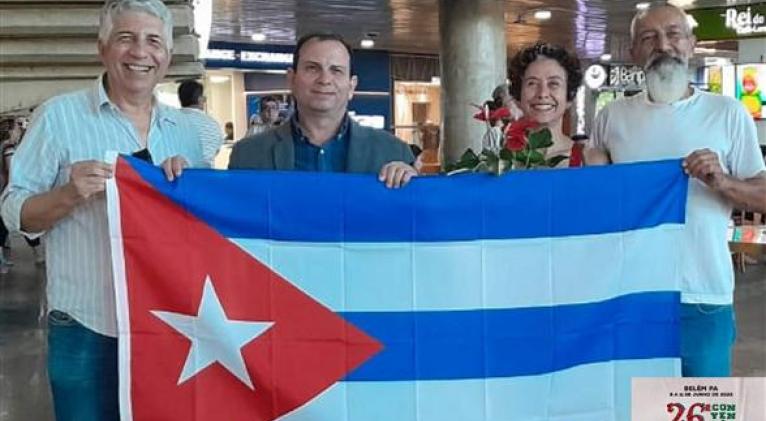 Fernando Gonzalez, president of the Cuban Friendship Institute (ICAP by its Spanish acronym), arrived today in Belem do Para, Brazil, to participate at the 26th National Convention of Solidarity with Cuba, which will be held from Thursday, June 8 to June 11.
Solidarity with Cuba grows and strengthens, declared on Twitter , Gonzalez , who is also Hero of the Republic, with images of the welcoming he was offered in the South American country.
With more than 970 on-site and 300 virtual participants, the event will provide the exchange of information and the building of partnerships in culture, education, health and tourism, enabling the emergence of solidarity actions and strengthening the defense of the Cuban Revolution and the sovereignty of the Latin American people
According to Prensa Latina, the Cuban ambassador Adolfo Curbelo; Eduardo Martinez, president of the business group BioCubaFarma; Elizabeth Hernandez, director of the International Center for Neurological Restoration of Cuba; Rene Gonzalez, director of the Fidel Castro Center; and Miriam Nicado, rector of the University of Havana, are also expected to attend.
The meeting will be dedicated to the 170th anniversary of the birth of Cuba's National Hero, Jose Marti, and the 70th anniversary of the assault on the Moncada Barracks, and will feature lectures, round tables and working groups on various topics about the situation on the island, the text indicated.