The governments of Venezuela and Cuba strengthen ties of brotherhood and cooperation
The governments of Venezuela and Cuba strengthen ties of brotherhood and cooperation
Imagen principal: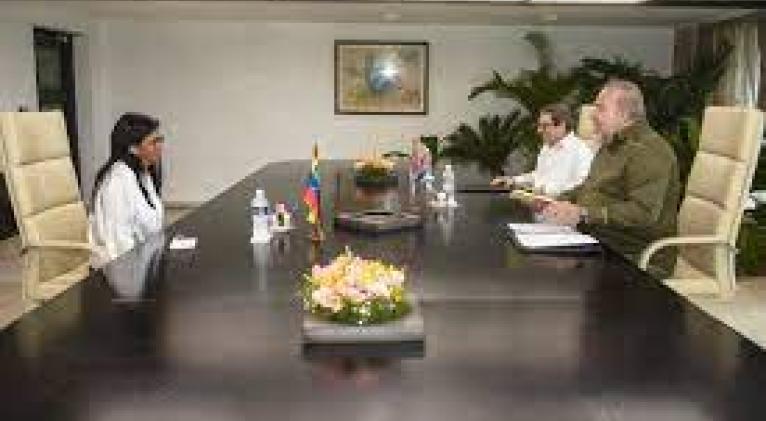 Caracas, Mar 7 (RHC) On Monday, the governments of Venezuela and Cuba strengthened ties of brotherhood and cooperation in a meeting between Executive Vice President Delcy Rodriguez and Cuban Prime Minister Manuel Marrero.
The high-ranking officials, accompanied by their respective delegations, reviewed the mutual collaboration and examined the progress and perspectives of the Integral Cooperation Agreement signed by Commanders Hugo Chávez (1954-2013) and Fidel Castro (1926-2016), on October 30, 2000.
At present, Caracas and Havana are promoting agreements in energy, science, health, economy, education, sports, and culture, among other strategic areas.
Venezuelan Executive emphasized that the cooperation model between Cuba and Venezuela is an example of what can be achieved by two peoples who consider themselves brothers.
According to a report by Venezolana Televisión, both nations are leading the way toward a creative and profound foundation of the cooperation map to improve, deepen and broaden mutual support.
Cuban Prime Minister was accompanied by the Commander of the Revolution and Deputy Prime Minister, Ramiro Valdés; the Havana Ambassador in Caracas, Dagoberto Rodríguez; the Minister of Energy and Mines, Vicente de la O Levy; the Minister of Health, José Ángel Portal, among other authorities.
The Venezuelan side was represented by the Vice-President of Public Works, Néstor Reverol; the Minister of Petroleum, Tareck El Aissami; the Minister of Science and Technology, Gabriela Jiménez, and representatives of the Health, Education, and Economy sectors (Source: Prensa Latina).