Diaz-Canel highlights November 27 large parade
Diaz-Canel highlights November 27 large parade
Imagen principal: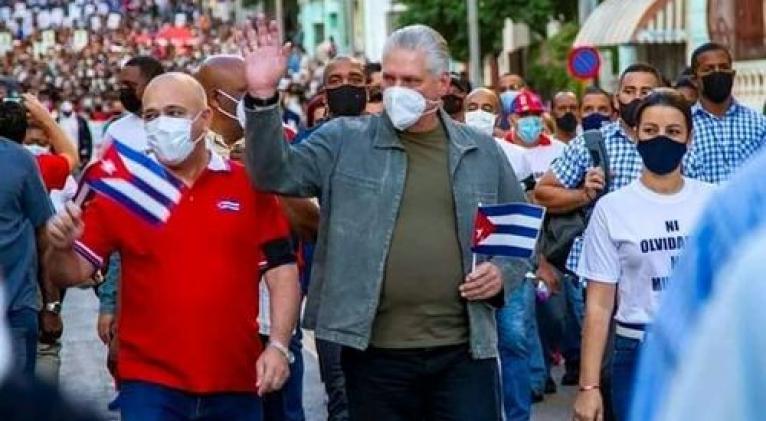 HAVANA, Cuba, Nov 29 (ACN) Cuban president Miguel Díaz-Canel highlighted the march held in Havana to commemorate the 150th anniversary of the shooting of the eight medical students, in which more than 100,000 young people participated.
The president wrote that the memory of that crime is alive, as "the Revolution is also alive in each one of those young people who stormed the streets in support of their country".
150 years after that crime, young Cubans paid tribute to the murdered students and to all those who perished in their struggle to achieve a better country project, which triumphed in 1959 and continues today despite the siege. #CubaVive, the head of state expressed in another tweet.
Díaz-Canel led the massive and combative march of students, youth and people in tribute to the martyrs of November 27.
Summoned by sentiment and memory, faithful to tradition and their roots, the "new pines" returned to the streets to honor the eight almost teenage medical students, murdered by Spanish colonialism 150 years ago, and to reaffirm for all times their commitment to Cuba, the Revolution and Socialism.
Walking down San Lazaro street, from the University Hill, the crowd marched impetuously to the esplanade of La Punta, and before the monument to the victims of that heinous crime floral offerings were placed by Army General Raul Castro Ruz, President Diaz-Canel, the Council of Ministers and the student body, young people and the Cuban people.
The students of Medical Sciences -traditionally the main protagonist of this tribute of all-, opened the impressive popular demonstration, presided over by the patriotic flag, the red and black ensign of the 26th of July Movement and the flags of the Union of Young Communists and the Cuban youth organizations.