Cuba works to overcome challenges and strengthen socialism, says prime minister
Cuba works to overcome challenges and strengthen socialism, says prime minister
Imagen principal: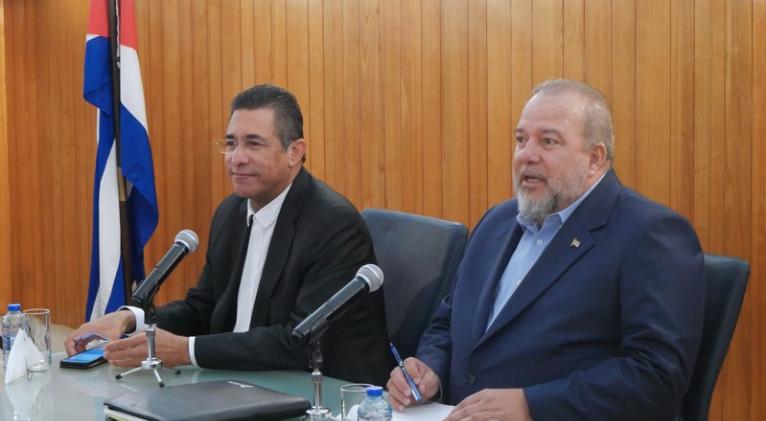 Cuba's Prime Minister Manuel Marrero Cruz stressed Friday in Paris that our country is working tirelessly to perfect its socialist system, in the face of economic challenges, and a scenario of U.S. blockade and media aggressions.
The head of government commented that Cuba faces challenges in a particular context, marked by an economic, commercial, and financial blockade intensified with 243 measures imposed by the administration of Donald Trump, hostility maintained by his successor in the White House, Joseph Biden.
He recalled the activation of Title III of the Helms-Burton Act, aimed at reinforcing the extraterritorial impact of the siege, and the inclusion of the largest island of the Antilles in Washington's unilateral list of countries sponsoring terrorism, a decision he described as unfair and lacking arguments to justify it.
He said Cuban authorities are working to solve complex challenges, among which he mentioned the stabilization of the national electro-energy system, affected by the lack of resources and the high fuel costs, which have shot up as a consequence of the current world geopolitical panorama.
Likewise, he highlighted as priorities the increase in food production, the attention to vulnerable neighborhoods, and the recovery of tourism, based on concrete plans and actions, which are beginning to bear fruit, despite the great challenge they represent.
In the economic field, the also member of the Political Bureau of the Communist Party of Cuba shared the measures adopted to incorporate new actors, micro, small and medium-sized enterprises for example, and the increase in the contribution of foreign investment to development.
He highlighted the support of the Cuban people and their commitment to the Revolution amid the challenges and the unconventional war faced by the country, support demonstrated by the recent approval of the new Family Code in a popular referendum.
Marrero Cruz also acknowledged that Cuba is not alone in its just struggle, as it can count on international solidarity, a reality he confirmed in his recent Asian tour, which included the presence at the funeral of former Japanese Prime Minister Shinzo Abe, and official visits to Vietnam, Laos, and Cambodia.