Chinese Red Cross donates 150,000 dollars to Cuba after Matanzas fire
Chinese Red Cross donates 150,000 dollars to Cuba after Matanzas fire
Imagen principal: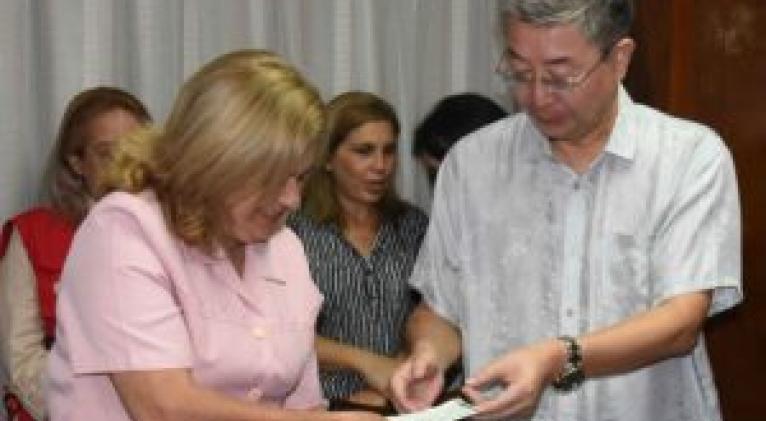 Havana, Aug 15 (Prensa Latina) The Red Cross Society of China on Monday donated ,000 to its Cuban counterpart in order to deal with the damages caused by the Matanzas oil terminal deadly fire.
The Chinese Ambassador in Cuba, Ma Hui, praised heroism of the Communist Party of Cuba (PCC, in Spanish) and the Cuban people in the fight to put out the death-dealing fire, and also offered the victims his heartfelt condolences.
The Chinese diplomat underscored the solidarity gestures by the both Mexican and Venezuelan governments in providing technical equipment and skilled personnel to deal with the large-scale fire.
The Cuban Red Cross Deputy Director Susana Llovet thanked for the donation and pointed out the Chinese Red Cross also supported Cuba´s national health system by donating ICU beds, volumetric ventilators and medicines.
Likewise, Ms. Llovet stated the Chinese Red Cross provided Cuban firefighters with tents and personal and collective equipment.
Cuba´s Deputy Foreign Trade and Investment Minister Deborah Rivas, on the other hand, emphasized Chinese President Xi Jinping´s condolences were among the first ones to be sent to Cuba soon after the dangerous fire broke out.
Rivas stated China´s donation reaffirms Havana-Beijing close relations, and it´s a strong support Cuba "highly appreciates".