Colombia and Farc rebels sign historic ceasefire
Colombia and Farc rebels sign historic ceasefire
Imagen principal:
The Colombian government and the Farc rebels have signed a historic ceasefire deal, bringing them closer to ending more than five decades of conflict.
The announcement is seen as one of the last steps before a full peace deal is signed, which is expected within weeks.
Colombia's president and the Farc leader shook hands in celebration.
The longest-running insurgency in the Western Hemisphere has killed an estimated 220,000 people and displaced almost seven million.
Thursday's announcement in Havana caps formal peace talks that started three years ago in the Cuban capital.
But it does not mark the start of the ceasefire, which will only begin with the signing of a final accord.
Colombia's President, Juan Manuel Santos, has previously said he hopes to sign that accord by the end of July.
Thursday's announcement includes:
A commitment that rebels will lay down arms within 180 days of a final peace deal
The creation of temporary transition zones and camps for the estimated 7,000 rebels
That no civilians will be allowed to enter Farc camps, to guarantee rebel security
UN monitors will receive all the group's weapons
"Let this be the last day of the war," said Farc leader Timochenko at the announcement.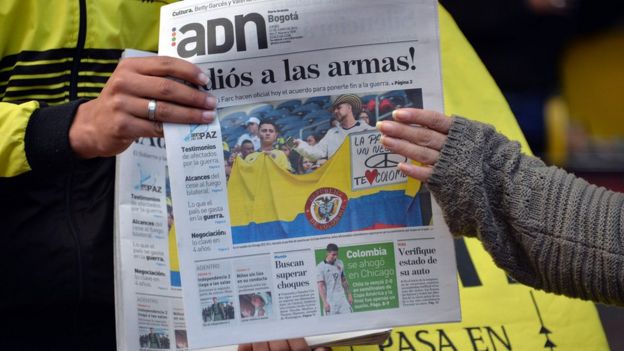 The deal has made headlines in Colombia: 'Good bye to the weapons!' said this newspaper
The rebels have also agreed to put the final accord to a popular vote in Colombia, which was a promise made by Mr Santos.
The president said at the ceremony that this was a "historic day".
"We have reached the end of 50 years of death, attacks and pain. This is the end of the armed conflict with the Farc," he said.
Both sides still need to establish how the peace deal in its totality will be implemented, verified and approved.
The UN Secretary-General, Ban Ki-moon, and leaders of Latin American countries also attended the ceremony.
Who are the Farc?
The Revolutionary Armed Forces of Colombia (Farc, after the initials in Spanish) are Colombia's largest rebel group
The main enemy of the Farc have been the Colombian security forces. Farc fighters have attacked police stations and military posts, and ambushed patrols
They have been hit hard by the Colombian security forces over the past years