Berta Caceres Received Death Threats from Canadian Company
Primary tabs
Berta Caceres Received Death Threats from Canadian Company
Imagen principal: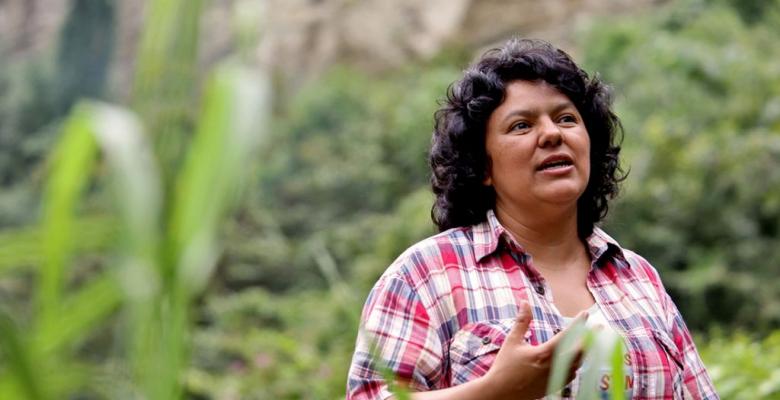 Murdered Honduran Indigenous activist Berta Caceres warned on multiple occasions that she had received death threats and other harassment from state and corporate agents, including Canadian hydroelectric giant Blue Energy, as a result of her activism resisting unwanted development projects on Indigenous territory.
Caceres made statements last April claiming that "men close to Blue Energy," a transnational Canadian company looking to build a dam in the Rio Blanco area in western Honduras, or people "close to politicians" and "death squads promoted from government policies" were behind the death threats leveled against her.
"I have received direct death threats, threats of kidnapping, or disappearance, of lynching, of pummeling the vehicle I use, threats of kidnapping my daughter, persecution, surveillance, sexual harassment, and also campaigns in the national media of powerful sectors," Caceres told EFE last year.
Caceres, co-founder of the Indigenous organization COPINH and prominent resistance activist, was a key leader of resistance movements in Rio Blanco against corporate development projects being launched without local consent.
Two years after the community set up a road blockade to resist the foreign-backed Agua Zarco dam project on the Gualcarque River, Caceres and her fellow activists found out that Blue Energy planned to build a dam on another local waterway, the Canjel River. The community was never consulted about the project and COPINH publicly opposed the dam.
Threats against Caceres and other members of COPINH continued to mount.
Caceress repeatedly condemned repression of resistance movements across the country.
"In Honduras the policy of criminalization of social movements is open, it's public," Caceres told EFE. "We live in a state of total helplessness, where they even kill people who have precautionary measures from the Inter-American Commission of Human Rights."
Caceres' statements less than a year ago were not only powerful, but prophetic. She was assassinated inside her home in the early hours of Thursday morning, despite IACHR precautionary measures mandating she receive protection.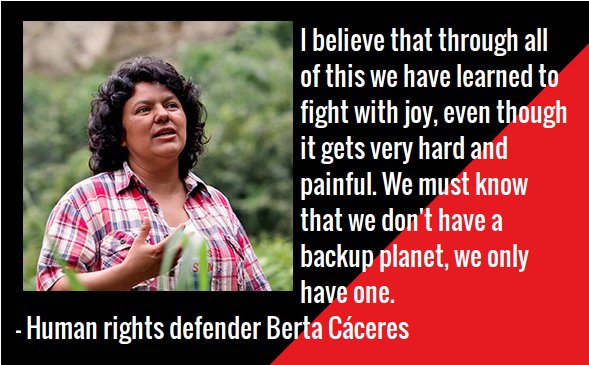 COPINH and Caceres' family have demanded an independent, international investigation into her death, expressing skepticism that a process led by the Honduran government would be thorough and impartial.
Caceres' daughter, Berta Isabel Zuñiga Caceres, said in an interview with Desinformemonos that she holds the companies behind the dam projects in Rio Blanco and the Honduran government responsible for her mother's death.
According to Global Witness, Honduras is the most deadly country in the world for land and environmental defenders. The organization noted in a report last year that the main drivers of abuses against rights defenders are dam projects, mining, and other land conflicts.
Global Witness also highlighted "increasingly worrying signs that Honduras is failing to take the concerns of environmental and land defenders seriously."
In a press conference Thursday following news of Caceres' murder, Honduran Security Minister Julian Pacheco refused to admit that Honduran security forces had "failed" in protecting the vulnerable activist in light of repeated threats.
One suspect has been arrested in connection with the assassination.