Honduran Migrants Break Police Barrier, Enter Guatemala
Primary tabs
Honduran Migrants Break Police Barrier, Enter Guatemala
Imagen principal: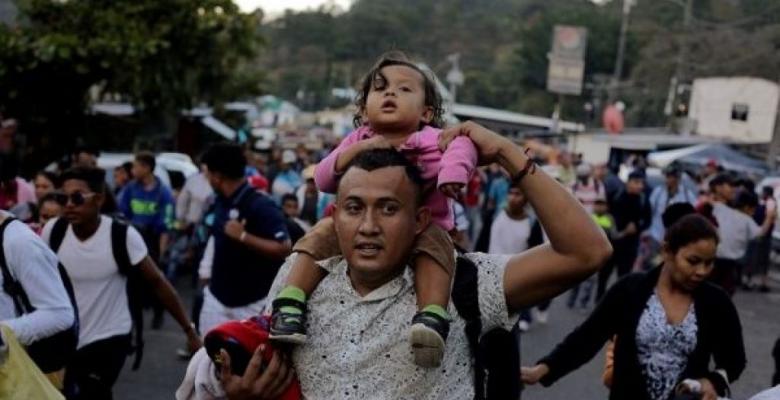 Honduran and Guatemalan authorities try to halt the new caravan heading towards the United States.
A total of 709 people from the migrant caravan that left Honduras Monday crossed the Guatemalan border on Tuesday with the intention of reaching the United States in search of better living conditions.
RELATED: US: Human Rights Defenders Protest To Support Migrants
The director of Honduras' Permanent Contingency Commission (Copeco), Lisandro Rosales, said that 359 migrants entered Guatemalan territory in the Agua Caliente's border area.
While another 350 Hondurans broke police barrier to enter the country irregularly, trying to continue on their trip to Mexico.
Rosales indicated that 23 unaccompanied minors were referred to the Directorate of Children, Family and Adolescents (Dinaf) for their accompaniment during the return to their places of origin.
@cahulaan Hundreds in new U.S.-bound migrant caravan cross into Guatemala: Several hundred Honduran migrants in a new U.S.-bound caravan crossed into Guatemala on Tuesday, as U.S. President Donald Trump seized on news… http://dlvr.it/QwnBcp #ImpeachTrump #ImpeachKavanaugh #TheResistance
One of those cases is that of two Honduran brothers, aged 12 and 14, who were abandoned by their aunt. The minors will be reunited with their grandmother, who is responsible for their care, since their mother lives in the United States.
On Tuesday, authorities increased immigration control measures in Agua Caliente region in an attempt to prevent the passage of the caravan. The police installed 54 checkpoints at the borders with Guatemala and El Salvador.
The Honduran authorities reiterated the call to their compatriots to not "put their lives at risk on the migratory route."
@mfbiggs The latest #caravan from #Honduras leaves San Pedro Sula in the middle of the night. Entire families carry nothing but the clothes on their backs in the pouring rain. Some know the horrors of the journey, but said they are desperate to escape violence, poverty, and extortion.
According to Honduras Ministry of Foreign Affairs, none of the thousands of migrants who made caravan trips to the U.S. last October "has managed to obtain political asylum or permission to remain in that territory on a regular basis."
At least 11 Hondurans from the first caravans died while attempting to reach U.S. territory.
Using the motto "In Honduras They Kill Us," the new caravan's occupants began the preparation to leave Honduras on Dec. 14 with hopes to escape their homeland's high instances of poverty and violence.
Honduras is one of the world's most violence-plagued countries with a homicide rate of 43 per 100,000 inhabitants. The figure also falls in line with being Central America's highest extreme poverty rate.