Cuba is made of Culture: Havana Biennial takes to Linea Street
Primary tabs
Cuba is made of Culture: Havana Biennial takes to Linea Street
Imagen principal: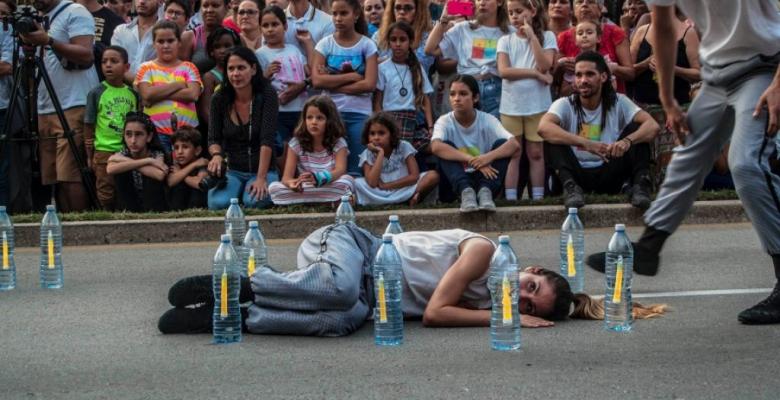 As part of the 13th Havana Biennial, the night of April 27 showcased theater plays and plastic arts in a culture-driven city that aroused the curiosity and creativity of passers-by in Linea Street.
The rhythm of the Cuban conga "guided" pedestrians for three kilometers. Several arts groups have their official headquarters there, from L Street to the Tunnel in Linea Street, and all of them showed some of their works.
Dance improvisation, performances, and live performances by companies such as La Colmenita, Teatro El Publico, and El Ciervo Encantado broke out the routine of the city. The Havana Biennial kicked off on April 12 and this is the most significant event of contemporary art in Cuba.
Antonio Matos —his first time in the greatest plastic arts event in Cuba— confirmed that the Cultural Corridor in Linea Street is like an indicator of the artistic quality of the country.
He also noted that the tour concluded near 11:00 pm and he could enjoy some of the excellent proposals portrayed in the Biennial as well as the enthusiasm of Cuba's young creators.
Yordan Polo Vazquez, Havana's citizen, highlighted the initiative taken by Proyecto Espacios to create a Cultural Corridor throughout Linea Street as it will certainly provide new and very interesting artistic options to the people, by adding value to more than twenty facilities in the area.
Under the motto La Construccion de lo Posible (The Construction of a Possible Future), the Biennial transforms spaces and reaches actual interaction between the art and the people by turning streets and squares, or even the Havana's seafront, into art galleries.
Translated by Sergio A. Paneque Diaz/CubaSi Translation Staff