International celebrities and Cuban bigwigs have graced the red carpet in Havana as the French fashion house Chanel staged its first Latin American catwalk show.
Karl Lagerfeld's latest collection was infused with the styles and colours of the Caribbean island.
Cubans without an invitation to the exclusive event packed the balconies of old Havana or lined the police cordon outside, straining to catch a glimpse.
"What a sight. But I would have liked to be closer to the models," said 52-year-old Mireya Correoso, who said she had never seen so much luxury and showbiz in one place.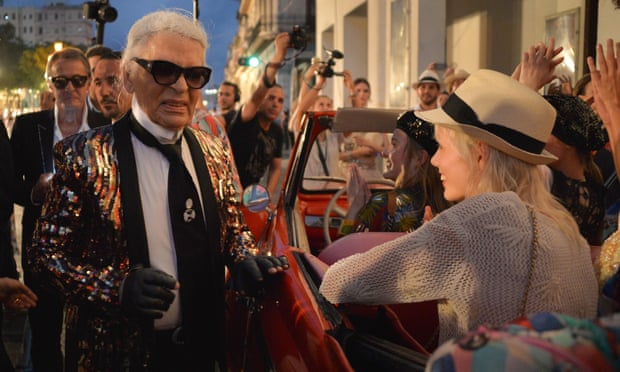 Karl Lagerfeld greets models at the event in Havana. Photograph: Adalberto Roque/AFP/Getty Images
It was the latest in a stream of international cultural events on the communist island as it opens up its diplomatic and commercial relations.
"The world is finally opening up to Cuba. Everyone wants to come and taste the forbidden fruit. Everyone wants to discover it, savour it, enjoy it, explore it," said Mariela Castro, the daughter of the president, Raúl Castro, and a prominent gay-rights activist on the island.
Other high-profile people attending included the Hollywood stars Vin Diesel, Tilda Swinton and Geraldine Chaplin. Diesel is in town shooting the latest Fast and Furious action movie.
Last month the Rolling Stones played a concert in Cuba, after a visit by the US president, Barack Obama.
Obama and Castro's December 2014 announcement of a rapprochement between their two countries has kindled new interest in Cuba, long isolated by a US embargo and its status as one of the last bastions of communism.
In announcing the show, Chanel said: "The cultural richness and the opening up of Cuba to the world have turned it into a source of inspiration."
The show took place on an open-air catwalk on the Paseo del Prado, a long seaside boulevard in a scruffy neighbourhood that got a makeover for the occasion.
The half-hour show ended with a brief appearance by the German designer, dressed in his trademark gloves and a sequin jacket, who received a burst of applause and conga drums.
Speaking before the show, the local designer Idania del Rio said: "I think that catwalk is going to be more for Chanel than for Cuba. I don't know whether the people here in Cuba are ready for this type of product."
Nevertheless, as a fashion designer she was curious: "I want to see what $40,000 clothing looks like," she said.
Afterwards, the 33-year-old was not entirely impressed: "It was very interesting and maybe too nostalgic. A lot of Cuban cigars, colours and hats from another era. It represented a Cuba that doesn't interest me right now, because today's Cuba is another, more contemporary Cuba."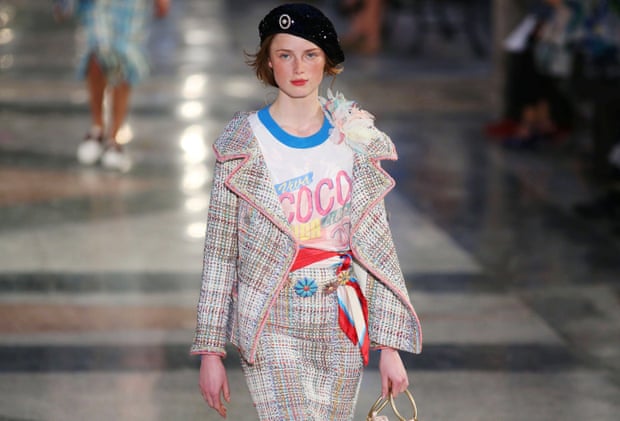 A model takes part in the Chanel show in Cuba. Photograph: Alexandre Meneghini/Reuters
For years, the communist principles that ruled in Cuba after Fidel Castro won power in the 1959 revolution insisted on equality, even in clothing. Foreign brands were not available until the 1990s, when the market started to open up gradually.
Cuba entered a crisis after the Soviet Union, which had financially supported its communist government, fell in 1991. Cubans had to wear imported second-hand clothes from state-run stores. Authorities called it "recycled clothing" but ordinary Cubans referred to their trips to the official shops as "rag-shopping".
With its cabarets and casinos frequented by US film stars and gangsters, pre-revolutionary Cuba had a thriving fashion scene. The end of the Soviet era encouraged a rebirth.
The future of fashion will depend on if and when US politicians end the 54-year-old embargo – still in place despite the diplomatic thaw.
"When we become a normal country, without the embargo, we will be leaders of fashion," said Cuba's best-known living designer, Raúl Castillo.