Mass Event in Chile to Celebrate 60th Anniversary of Cuban Revolution
Primary tabs
Mass Event in Chile to Celebrate 60th Anniversary of Cuban Revolution
Imagen principal: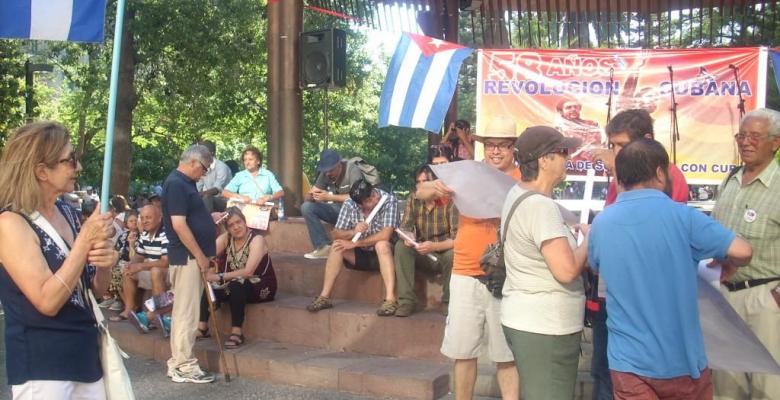 Music, poetry, dances and many shows of support for the Cuban Revolution characterized the main event with which Chilean solidarity organizations celebrated the 60th anniversary of that historic deed.
The Concepcion Theater, in the southern city of Concepcion, was filled by hundreds of people of all ages summoned by the Jose Marti Association to attend a cultural political event.
Artistic, cultural, political and social groups and personalities attended the event, including Salvadoran Ambassador to Chile Victor Manuel Valle, Werken Jose Huenchunao (a Mapuche official), and the mayor of Santiago's Recoleta suburb, Daniel Jadue. Cuban Ambassador to Chile Jorge Lamadrid stressed the importance of January 1, 1959, when the Revolution led by Fidel Castro won after more than two years of fighting at the Sierra Maestra mountain range and overthrew Dictator Fulgencio Batista, who fled the country.
Lamadrid warned that this event opened a new stage in Cuban history that began the construction of a new society that currently continues despite multiple attempts by the enemies of the Revolution to reverse that process, characterized by its solidarity with the peoples who fight for their rights in other parts of the world.
Cuban singer songwriter Pepe Ordaz, who came from Cuba to offer his music in several activities in Chile to commemorate the anniversary of the Cuban revolutionary victory, as well as local artists, including the dance group 'Itsmo', performed at the cultural event.
Participants also expressed their support for the Mapuche people in their claim of their rights over their original territories and the vindication of their historic and cultural values.